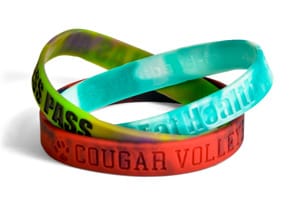 Free Shipping (USA 50+ Quantities)
50 Piece Minimum - Contact Us if you need a rush
No setup, mold or letter/clipart fees
Up to 3 Colors Included
Free design, color matching and proofs
For a tie-dyed look, choose swirled wristbands! Choose up to three colors, and we'll swirl them around the bands for a bright, colorful finish. Pick bright, pastel colors for a tie-dyed image, brown and yellow for a desert camo style, or green, brown, and black for a camouflage look. Or, go with your school or sports team colors on your wristbands and they're sure to be a hit at a concession stand or fund raiser. Swirled wristbands can be in the debossed, color filled, embossed, or screen printed styles, so choose the option that's right for you!
Pricing for Swirled Wristbands
| Type | 50 | 100 | 250 | 500 | 1,000 | 2,000 | 3,000 | 5,000 | 10,000 |
| --- | --- | --- | --- | --- | --- | --- | --- | --- | --- |
| Debossed | $1.93 | $1.13 | $0.71 | $0.50 | $0.35 | $0.31 | $0.29 | $0.25 | $0.22 |
| Debossed Painted | $2.03 | $1.40 | $0.99 | $0.60 | $0.40 | $0.36 | $0.34 | $0.32 | $0.31 |
| Embossed | $1.93 | $1.13 | $0.71 | $0.50 | $0.35 | $0.31 | $0.29 | $0.25 | $0.22 |
| Screen Printed | $1.93 | $1.15 | $0.73 | $0.52 | $0.37 | $0.34 | $0.31 | $0.27 | $0.24 |