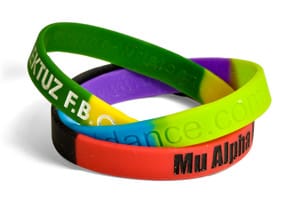 Free Shipping (USA 50+ Quantities)
50 Piece Minimum - Contact Us if you need a rush
No setup, mold or letter/clipart fees
Up to 3 Colors Included
Free design, color matching and proofs
When one color just isn't enough, choose segmented wristbands and include two or three colors in segments around the band. Pick the colors that appeal to you from our list of more than a hundred different colors, and we'll add them to your wristbands. Segmented colors are great for schools, sports teams, businesses or anyone with multiple colors in their logo or icon. Segmented wristbands can be debossed, color filled, embossed, or silk-screened, so you have multiple styles to choose from. For an extra splash of color, choose segmented wristbands!
Pricing for Segmented Wristbands
| Type | 50 | 100 | 250 | 500 | 1,000 | 2,000 | 3,000 | 5,000 | 10,000 |
| --- | --- | --- | --- | --- | --- | --- | --- | --- | --- |
| Debossed | $1.93 | $1.13 | $0.71 | $0.50 | $0.35 | $0.31 | $0.29 | $0.25 | $0.22 |
| Debossed Painted | $2.03 | $1.40 | $0.99 | $0.60 | $0.40 | $0.36 | $0.34 | $0.32 | $0.31 |
| Embossed | $1.93 | $1.13 | $0.71 | $0.50 | $0.35 | $0.31 | $0.29 | $0.25 | $0.22 |
| Screen Printed | $1.93 | $1.15 | $0.73 | $0.52 | $0.37 | $0.34 | $0.31 | $0.27 | $0.24 |