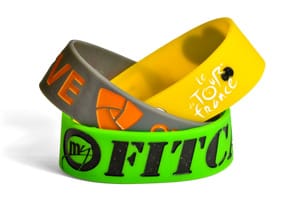 Free Shipping (USA 50+ Quantities)
100 Piece Minimum - Contact Us if you need a rush
No setup, mold or letter/clipart fees
Add $0.06 for swirl or segmented
Free design, color matching and proofs
Our one-inch wristbands are perfect for anyone who wants to include a large image or logo as part of their design. The biggest size that we offer, the one-inch bands are twice the width of the standard size wristbands. Our one-inch wristbands can be debossed, embossed, color-filled, or screen-printed. Pick the style that's right for you! Thanks to their size, we're also able to die-cut the one-inch bands into custom shapes for a special effect. Have your text or image extend beyond the wristbands for a unique and dramatic appearance. The one-inch bands are becoming increasingly popular with bands and music groups due to the size and their ability to feature a larger image. Pick one-inch wristbands when you absolutely have to have the biggest bands around!
Pricing for One Inch Wristbands
| Types | 100 | 250 | 500 | 1,000 | 2,000 | 3,000 | 5,000 | 10,000 |
| --- | --- | --- | --- | --- | --- | --- | --- | --- |
| Debossed | $1.82 | $1.10 | $0.84 | $0.58 | $0.51 | $0.44 | $0.42 | $0.40 |
| Color Filled | $1.88 | $1.20 | $0.94 | $0.68 | $0.62 | $0.55 | $0.52 | $0.47 |
| Embossed | $1.82 | $1.10 | $0.84 | $0.58 | $0.51 | $0.44 | $0.42 | $0.40 |
| Silk Screened | $1.82 | $1.10 | $0.84 | $0.58 | $0.51 | $0.44 | $0.42 | $0.40 |
| Die Cut (Custom Shape) | $1.98 | $4.41 | $1.10 | $0.82 | $0.70 | $0.64 | $0.62 | $0.54 |